Local Car Removals
 
Thinking of changing your old car into quick cash ?
Call one of our friendly consultants & find out just how much you could get today $
Local Car Removals is proud to have just become a One Stop Shop for all Victorian Car removals, including all old, unwanted, smashed cars, 4×4's, trucks, old trailers and all scrap metal. Utilizing 15 years of competitive industry experience, part re-sale and recycling initiatives to provide you with the Best Cash Payout for your old or smashed car..
Supporting Australia's recycling initiatives is a major advantage as it allows us to provide significantly better prices' for all our clients. We take pride in being able to offer our clients more for their vehicles, we achieve this by an advanced understanding of recycling various metals and plastics recycling as well as re-sale value of specific parts on the international used parts market.
Local car removals has consultants within reach of all local areas throughout Victoria, quotes are Free and we have a 100% satisfaction guarantee.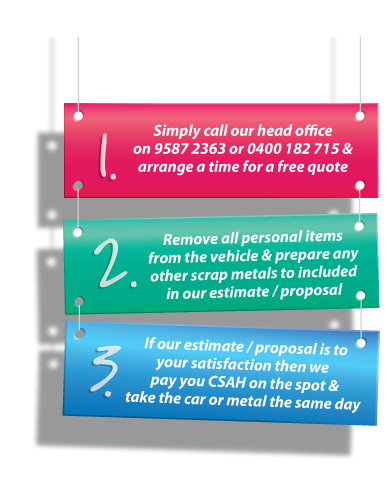 Why Choose Local Car Removals?
We offer the BEST CASH Payouts throughout Victoria & all our quotes are free
We take all makes and models, including 4×4's, trucks, trailers and scrap metal
We also take working cars and offer very good Cash payouts, like dealers or eBay buyers
We take on all recycling initiatives possible, recycling cars in according to (EPA) standards
Best Price Guarantee
The most important thing to us is that our customers are satisfied with our Cash Payouts. We combine the value of recycling steal, copper etc, all plastics and exporting key parts to other countries so that we are always able to give you the best price. When buying cars which are still running or usable we take into consideration the market value of the car as well as the value of recycling the vehicle, using every avenue to generate the best price and assure your satisfaction.
So if you have an old car, find out what is it's recyclable value is.. & if you are satisfied you can turn it into Cash the same day !
We provide our old car removal & metal removal service 7 days a week and you can call us at any time for a free quote. We always try make the process as simple and convenient as possible, with no unnecessary complications. We are a just a phone call away, let us show you why we're quickly becoming Victoria's best provider for removal of unwanted cars and scrap metal.
How Does it work ?
Our skilled staff  are trained to be careful when removing cars or scrap metal from your property, they are also very helpful in assisting you with anything which may be blocking the way for removal. You don't have to struggle removing number plates etc Our staff are happy to help with any fiddly bits and always do a once over check for personal belongings.
Call one of our skilled consultants for a free quote, arranging a time at your convenience
Prepare your car, checking for personal belongings and place car as close to the road as possible
Remove number plates, unless being sold with registration or wait for our staff to do it for you
Prepare a valid photo id for identification & receive your cash from our staff upon pickup